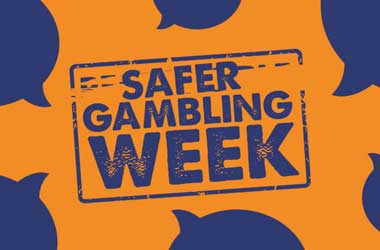 Summary:
Safer Gambling Week is now in its sixth year, with the 2023 edition running from November 13-19
The cross-sector initiative aims to get everyone talking about gambling responsibly
The industry hopes to build on the record-breaking success of last year's campaign
The Betting and Gaming Council (BGC) has highlighted the industry's commitment to raising standards especially when it comes to protecting players and tackling problem gambling as "Safer Gambling Week" enters its sixth year.
Originally known as "Responsible Gambling Week", the cross-sector initiative aims to stimulate conversations around safer gambling and raise awareness of the tools available to help customers keep their gambling under control and where they can seek advice and support.
Safer Gambling Week 2023
After its launch in 2017, Safer Gambling Week has since become an annual campaign organized by the BGC, Lotteries Council, Bingo Association and BACTA. This year, it will run from November 13-19, and once again, all gambling providers across the UK, including bookmakers, casinos, bingo clubs, amusement arcades, and online gaming operators will unite to promote safer gambling via various activities and programs throughout the week.
Land-based gambling venues and online platforms will make a concentrated effort to make safer gambling messages more visible, with the campaign getting coverage in the news, on social networks, and on partner websites.
The nationwide initiative is also supported by gambling charities, youth organizations, and other groups advocating for responsible gambling. They mark Safer Gambling Week by organizing training and events to give people as much information as possible on the importance of gambling safely.
BGC Expecting Another Successful Campaign
The 2022 campaign which took place in October was a massive success, with around 200,000 accounts setting deposit limits during the month, up 12.5% from October 2021. The majority of those who set deposit limits (61%) did so for the first time. The number of players actively using on-screen alerts that monitor the duration of play, known as "reality checks", also jumped by a massive 300%.
Additionally, the 2022 Safer Gambling Week generated almost 30 million impressions on social media, up 21% from the previous year. The industry is aiming to build on last year's record-breaking success, as the problem gambling rate in the UK remains stable at 0.3%.
BGC Chief Executive Michael Dugher said Safer Gambling Week is an integral part of the industry's efforts to combat problem gambling, with the campaign doing vital work to educate Brits on the safer gambling tools available to them via regulated gaming sites.