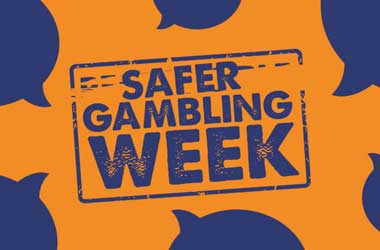 Summary
Safer Gambling Week 2022 gets a new website
Safer Gambling Week runs from 17 to 23 October
Sixth edition of Safer Gambling Week in 2022
Safer Gambling Week was launched when the UK was facing a significant spike in gambling addiction and licensed gaming operators were under pressure to do more to protect British players from gambling harm.
Top gaming organizations in the country which include the Bingo Association, the Betting and Gaming Council (BGC) and Bacta joined forced to organize Responsible Gambling Week which has turned out to be quite positive over the last few years for the UK gambling industry.
Responsible Gambling Week which was renamed Safer Gambling Week is set to celebrate its sixth edition this year. The dates for this year's edition of Safer Gambling Week will run from 17 to 23 October and all of the top gambling stakeholders in the country will join together to make this sixth edition a big success.
Organizers of Safer Gambling Week are not waiting till October to start working on this year's campaign. They have also invested time and effort to give the website a completely revamp. The new Safer Gambling Week website can be found at safergamblinguk.org and it will give visitors access to a number of responsible gambling tools and a bunch of useful information to help players protect themselves from gambling harm and also give problem gamblers the resources to combat gambling addiction.
SGW 2022 To Raise Gambling Awareness Throughout the UK
Safer Gambling Week has had a bigger impact with each edition as more members come together in both the land based and online casino industries. The 2021 edition of Safer Gambling Week registered a record number of visits to the website and a 79 percent increase in website sessions when compared to the previous year's edition.
A lot of players in the UK are not aware of the safer gambling tools they have access to and hence don't use them. The results from the 2021 Safer Gambling Week showed an increase of 17 percent in the usage of safer gambling tools concerning deposit limits when compared to the previous four week average.
The new Safer Gambling Week website will have even more resources that organizations will be able to use to offer better protection to their players and visitors.